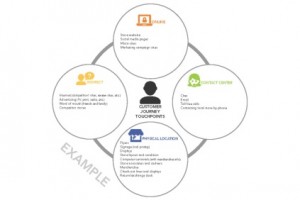 This study by Roxanne Menzies of CFI Group and David Baker of Baker Strategy Group introduces Customer Journey Mapping as a comprehensive system of feedback analysis.
Retail performance metrics have evolved remarkably over the past 20 years. What began as simple measures of hits and clicks has become a sophisticated system of integrated metrics. Today, a wide set of measures can be captured from the visitor's website activity, including direct feedback from visitors that can be incorporated into a more complete view of the customer experience on the website.
Leaders in retail have gone well beyond company website measurements to tie in enormous sets of data from other company online touchpoints, such as company micro-sites, specific marketing campaign sites, and customer social media sites. Some successful retailers have been able to orchestrate the online data with contact center activity and feedback as well as in- store operational data and customer response surveys.
The most advanced retailers, however, go one step further. Advanced retailers pull together the swath of available data into a robust integrated data set and organize the data around the most important workflow of all: the customer journey. Mapping the customer journey involves three important ideas: touchpoints, stages, and segments.
For more information on Customer Journey Mapping, visit www.mapthejourney.com.